We have Martin Edwards' excellent blog to thank for introducing us to Wheatley and Links' murder dossiers. These dossiers dispensed with the trappings of a novel and just presented a puzzle for the reader to solve. Facts and clues were presented through police reports, interviews, telegrams, photographs, floor plans, handwritten notes, fingerprints and even physical evidence such as hair, cigarette ends and matches. Hugely popular for a short period (120,000 copies reportedly sold for their first edition), Wheatley and Links produced four dossiers between 1936 and 1939: 'Murder Off Miami', 'Who Killed Robert Prentice?' 'The Malinsay Massacre' and 'Herewith the Clues',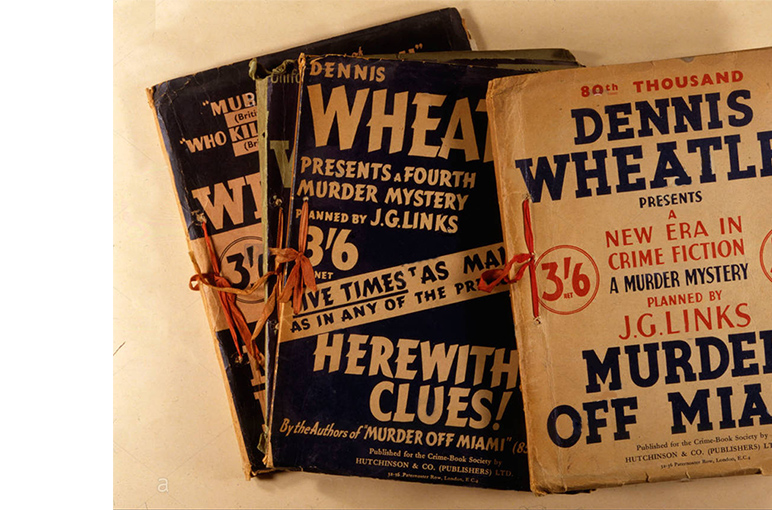 Dennis Wheatley (1897 – 1977) was a prolific author who wrote thrillers, historical novels, science fiction and books about the occult, the latter for which he is best known. After surviving a chlorine attack during Passchendaele in WWI, he managed the family wine business for a decade. During the Great Depression he turned to writing, and his output – totalling over 70 books and countless short stories – continued steadily until his death in 1977. Today, Bloomsbury Reader has republished many of his titles. Joseph Gluckstein (J.G.) Links (1904 – 1997) was head of the Calman Links fur company and would later become an art historian recognized for his expertise on Canaletto and author of the much-loved guide book Venice for Pleasure. Although they seemed an odd pairing, Wheatley and Links were old friends; the latter had helped Wheatley when he transitioned from wine merchant to writer. Links suggested the dossier exercise: he would devise the whodunit plot while Wheatley concentrated on the narrative structure and dialogue. After some reluctance, Wheatley and his publisher Hutchinson signed up for the project, although the publisher insisted on no royalties for the first 10,000 copies sold.
We obtained a copy of the American edition of Murder Off Miami (renamed 'File on Bolitho Blane') which reveals an impressive devotion to verisimilitude – there is a rich assortment of realistic documents on various types of paper in varying colours, thicknesses, and sizes, interspersed with physical samples. The collection is presented in a cardboard folder with string – it must have been a nightmare to assemble. It is reported that at the height of the dossier boom, Hutchinsons employed forty women to assemble the clues; aside from paper documents this included ripping photos, putting hair samples in bags, spraying perfume on cards, and splattering fake blood on fabric samples. We are looking forward to ploughing our way through the evidence on the death of eccentric soap magnate Bolitho Blane aboard his pleasure boat, the Golden Gull. The solution (originally presented in a sealed section at the back of the book) will NOT be looked at in advance.
Floor plan

Police interviews

Evidence
Wheatley was less involved with the fourth dossier, Herewith the Clues, which was also the most explicitly game-like. Launched shortly before the outbreak of WWII, it saw the end of the dossier craze. Wheatley and Links both joined up immediately and devoted all their energies to the war effort. After the war they went on to different ventures, although Wheatley did publish a board game called Alibi in 1953. A more sophisticated version of the family staple Cluedo, it was not a success.
We can't help but think that the team at Bloomsbury are missing a trick here. Given the popularity of murder mystery dinner parties, escape rooms and VR whodunits, there is scope for an inventive collage for e-reader+ to revive these.
Interesting links:
A review of Dennis Wheatley's life and work here.
Martin Edwards blog article on murder dossiers here.
A nice review by the Digital Antiquarian on all four dossiers here.