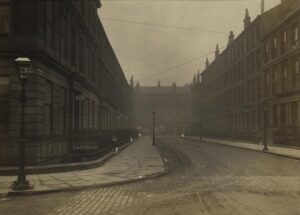 On the evening of December 21st, 1908 around 7pm, maidservant Helen Lambie was sent out to fetch the evening paper by her employer Miss Marion Gilchrist, a wealthy 82-yr-old woman who lived at 15 Queen's Terrace, West Princes Street, Glasgow. She was gone for 10 minutes. A downstairs neighbour, Arthur Adams, on hearing a disturbance upstairs, left his flat to investigate and passed a man hurrying down the staircase. Helen Lambie returning from her errand, also saw a man hurrying down the staircase. Alarmed, Lambie and Adams searched the flat and found Miss Gilchrist lying dead in a pool of blood in the dining room, having been brutally battered about the head.
On investigation, the police determined that the murdered had lit the gas in the bedroom and left behind a box of matches. A wooden box in which Miss Gilchrist had kept private papers (including a recently changed will) had been forced open and the contents strewn on the floor. But although several valuable pieces of jewellery lay on a dressing table, only one, a diamond crest brooch, was missing.
Helen Lambie and Adams described the man they saw as thirty-ish, five feet eight or nine inches tall, slim, dark-haired, and clean shaven. Another witness was a fourteen-year-old message girl named Barrowman, who was passing the house on the night of the murder when a man rushed into the street and almost knocked her down. Her description did fully not match that of Lambie and Adams.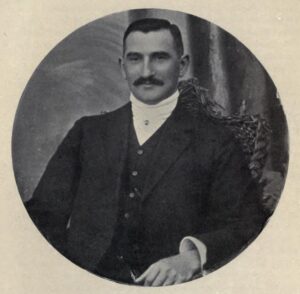 Four days after the murder, information reached the police that a German Jew, thirty-eight year old Oscar Joseph Leschziner, had been trying to sell a pawn ticket for a diamond crescent brooch. Leschziner had arrived in Glasgow about a month before the murder, accompanied by Andree Antoine, a Frenchwoman, and they occupied a flat at St George's Road, a few blocks away from Marion Gilchrist's residence. Leschziner had a number of aliases, including Sando, George, Anderson, Schmidt and Slater; and it was as Oscar Slater that he was known in Glasgow. Slater had already been prosecuted for malicious wounding and assault in London and disorderly conduct in Edinburgh before coming to Glasgow. The police knew him as a disreputable foreigner and an associate of prostitutes, thieves, burglars and resetters; it was also believed he was an illegal gambling-den operator.
By the time the police went looking for Slater, he and Antoine had already left Glasgow on the HMS Lusitania (under false names) bound for New York. Upon his arrival there he was arrested and found to be carrying the pawn ticket for a brooch, which the Scottish police thought incriminated him still further. They sought extradition, but it proved unnecessary as Slater returned voluntarily to Glasgow hoping to clear his name. He was charged with murder.
At a trial in the High Court in Edinburgh in May 1909, Slater was found guilty and sentenced to death. However, two days before his execution, his sentence was commuted without explanation to penal servitude for life and he was sent to Peterhead Prison in north-east Scotland.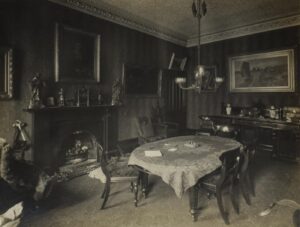 An outcry ensued and campaigners sought to clear his name in the decades that followed, including Sir Arthur Conan Doyle, whose The Case of Oscar Slater was published in 1912. His supporters pointed to the flaws in the case and reliance by the police on his unsavoury character and previous misdeeds. The police allowed Lambie and Barrowman to see Slater before an identification parade (a gross irregularity); both women subsequently identified him as the man seen running from the house on the night of the murder (interestingly Adams was not so sure). The 'incriminatory' pawn ticket was found to relate to a transaction which had taken place several weeks before the murder. Slater was not allowed to speak for himself during the trial, or call on an alibi to testify on his behalf – he had returned to Glasgow willingly as he had an alibi and believed he could easily prove his innocence of the crime. He and his mistress were travelling under false names so that his estranged wife could not track him down; the tickets had been purchased before the murder. An upholsterers hammer found in his posession was claimed to be the murder weapon, despite it not being seen by the witnesses and being judged (by Conan Doyle at least) to be too flimsy to have been used for the crime. There was no forced entry into the flat, implying Gilchrist knew her attacker. The police did not question any of the victim's relatives and did not follow-up on Adam's theory that one of the dining chairs had been used as the murder weapon.
In 1914, Detective Lieutenant John Thomson Trench, an officer from the original investigation, implicated a relative of Miss Gilchrist in the murder and alleged that evidence to this effect had been concealed by police. He was dismissed from the police force following this disclosure. Conan Doyle continued to pursue the case, with letters to newspapers, his contacts in government and direct public appeals. In 1927, Glasgow journalist William Park published The Truth about Oscar Slater. The book re-examined the case and came to the same conclusion that Conan Doyle had – that Gilchrist had likely known the murderer and invited him into her home. Park speculated the Miss Gilchrist had argued with this person about a document that she possessed, mostly likely a will, and she ended up dead. Libel laws prevented Park from actually naming the murderer in his book, although a reading makes clear who he believed it to be. To state it here would be to detract from the who-dunnit fun of Five to Five.
The book was a sensation and newspapers were full of new information about the case and former witnesses from the trial came forward stating the police had persuaded them in naming Slater as the man they had seen that day. In November 1927 the secretary of state released Oscar Slater on license. An appeal on behalf of Slater was heard in the high court in Edinburgh on 8 June 1928, and found misdirection by the presiding judge. Slater was granted an ex-gratia payment of £6,000 in consequency of wrongful conviction and imprisonment. He remarried in 1936 and lived quietly in Ayr, dying in 1948, aged 76, described as a 'retired journeyman baker' on his death certificate.
In Five to Five, D. Erskine Muir's second detective novel, the author imagined who might have been the killer. In her review of the novel in the Sunday Times, Dorothy L. Sayers noted that the Gilchrist enigma was one of the "most mysterious of all recent murder cases". Muir had "used the opening situation [in the Slater case] as the thesis for an exciting and well contructed murder story… with a dramatic and soundly argued conclusion."
Sources:
Case against Oscar Slater, University of Glasgow
"Our Legal Heritage: The trial of Oscar Slater" from Scottish Legal News