My love for the gothic house mystery started in childhood. Our bookshelves were filled with Wilkie Collins, the Brontes, Henry James, Edgar Allan Poe, Du Maurier and yes, Jane Austin — who can forget Northanger Abbey? — and the local library had the latest Barbara Michaels, Victoria Holt, Phyllis Whitney, Mary Stewart (although I always favoured characters who ran towards the house rather than away). I still feel a thrill when I see turrets on a cover.
House with Crooked Walls, the second book of the Theodore Terhune bibliomysteries, focuses on an abandoned country manor in Kent that is shunned by the locals. Author Bruce Graeme lived with his family in Kent and local geography is a feature of the Terhune stories; Graeme's affection for the local environs is clear. Was the setting of House with Crooked Walls inspired by a real 14th century manor?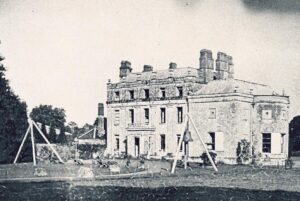 A browse through Lost Country Houses of Kent by Martin Easdown reveals 120 country houses in Kent that were destroyed between 1700 and the present day. They disappeared for a variety of reasons – fire, declining family finances and war use, with many being left in a ruinous state after housing troops or serving as a hospital during the world wars. In the decade before House With Crooked Walls was published, fifteen Kent country houses were brought down. None are documented as having a hermit's grotto that features in House with Crooked Walls, but Bradbourne Hall in Riverhead, Sevenoaks was shunned by it's eighteenth century owners, (William Bosville and son Henry) who proceeded to live in a cottage on the estate rather than the main house. A later owner, Francis Crawshay, placed a bell in a support near the house which could be heard for miles around when it was rung. Crawshay was a druid and also erected stone monoliths and large sundial around the estate, some of which are still standing. After standing empty for over a decade, the Hall was eventually demolished in 1937.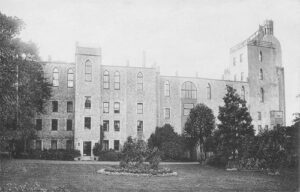 Another possible inspiration for Graeme's 'House-on-the-Hill' was Knockholt House. Described by Easdown as an 'ugly brute of a place with a 120-foot-high tower', it was not old (built in 1890 by James Vavasseur) but it was soon nicknamed 'Vavasseur's Folly' by locals and was increasingly decrepit with overgrown grounds by the 1930s. Damage by a landmine led to the house's demolition in April 1942. (As a side note, I had not appreciated how peppered with mines the south coast was during WWII – interested readers can find out more here).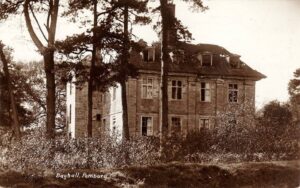 An earlier mansion, Great Bayhall in Pembury, was first built in the eleventh century and had several illustrious owners, but by the early 1800s had been divided into cottages. Unfortunately, the cottages were reputed to be haunted so they were abandoned and left to decay, with moss-covered roofs, broken windows and a clogged-up moat. Although the mansion was pulled down in 1908, some remains survived until 1960.
Graeme resided in an Elizabethan farmhouse near Aldington, so none of these mansions would have been on his doorstep. But the presence of so many precarious old houses in Kent must have been a boon to writing a mystery set in an ancient, dilapidated (and possibly cursed!) medieval building.